Written for Food&Home. Originally published on 22 November 2022.
How about heading to Culture Wine Bar for your weekend festivities?
Earlier this month they won the Star Wine List's Best Medium-Sized List in South Africa, which recognises establishments with 200-600 references on their wine lists. Culture Wine Bar – the only wine bar nominated – were up against some of South Africa's most prestigious restaurants and hotels including FYN Restaurant in the Western Cape and Ivory Manor Boutique Hotel in Gauteng.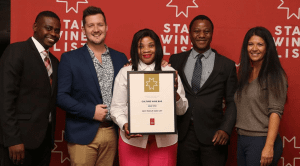 Culture Wine Bar offers more than 45 wines by the glass and was also a finalist in the Star Wine Lists's By-the-Glass List category.
"We have put a great deal of time, love and effort into curating a diverse wine list that we believe showcases an extraordinary variety of fantastic wines from our much-loved local producers, as well as hidden gems, cult classics and more." – Matt Manning, owner of Culture Wine Bar
The panel of international judges were made up of esteemed global industry leaders consisting of Heidi Mäkinen (Master of Wine & President Finnish Sommelier Association), Marc Almert (Best Sommelier in the World 2019), Piotr Pietras (Master Sommelier) and Tawanda Marume (Best Sommelier of Zimbabwe 2020).
Master Sommelier Piotr Pietras said of Culture Wine Bar:
"Fantastic wine list with loads of fun and discoveries. Blend of quirky and well-known wines. Lovely representation of local and international producers. Tradition meets the modernity. Well done!"
If you're planning to experience this award-winning wine bar yourself, take a look at their events page to see what's coming up. Every Thursday they do "Thirsty Thursdays" where you can enjoy complimentary wine tasting featuring wines from some of the best wine farms.
As Matt Manning says:
"This win is not just for us, but for the thriving wine culture in SA – what an exciting time to be part of it!"
Feature Image: Unsplash