Written for Food&Home. Originally published on 19 April 2023.
If you're a fan of spicy food and cosy modern vibes, you're in for a treat at Hacienda Coastal Mexican.
Even though you'll experience the authentic flavours and spices synonymous with Mexican cooking, you won't find typical Mexican food here. Think fine-dining tapas style dishes that deliver a sensory experience.
The cosy atmosphere carries through to the style of dining. Pick a few dishes per course from their inventive menu to share between friends.
We were treated to a night out at Hacienda to experience it for ourselves. Let's walk you through it…
Setting the scene
Upon arrival, we couldn't help but marvel at the décor – including the well-stocked bar. We had barely sat down before we were up again to order a margarita from the bar. It's only fitting when visiting a Mexican restaurant, right?
Lance, the talented bartender that served us, showed us how it's done and mixed us a 'gram worthy margarita.
Next up, we were served starting plates that gave us a preview of the flavours to come. We got to taste three of their signature sauces – spiced black bean sauce, green tomatillo sauce, and their red adobo rub sauce – with freshly made totopos. Talk about yum.
Sharing courses that test your friendships
We were definitely spoilt for choice when it came to deciding what to order. Our helpful waitron gave us suggestions to guide us towards a delicious decision.
The menu recommends ordering two to three dishes per person to share. We went with:
Seabass ceviche with leche de tigre, avocado crema, arbol salmon roe and pico de gallo
Taco baja lobster – crispy tempura lobster with fennel salsa, pomegranate aioli and dried grapefruit
Quesadilla de pollo – quesadilla of barbacoa chicken, queso fresco, corn mustard seed and avocado crema
Brisket – crispy brisket, mole hacienda, corn puree, ancho honey gel and crisp papa asada
The seabass ceviche is a stunner. Beautifully presented with soft flavours that almost acted as a palette cleanser for things to come.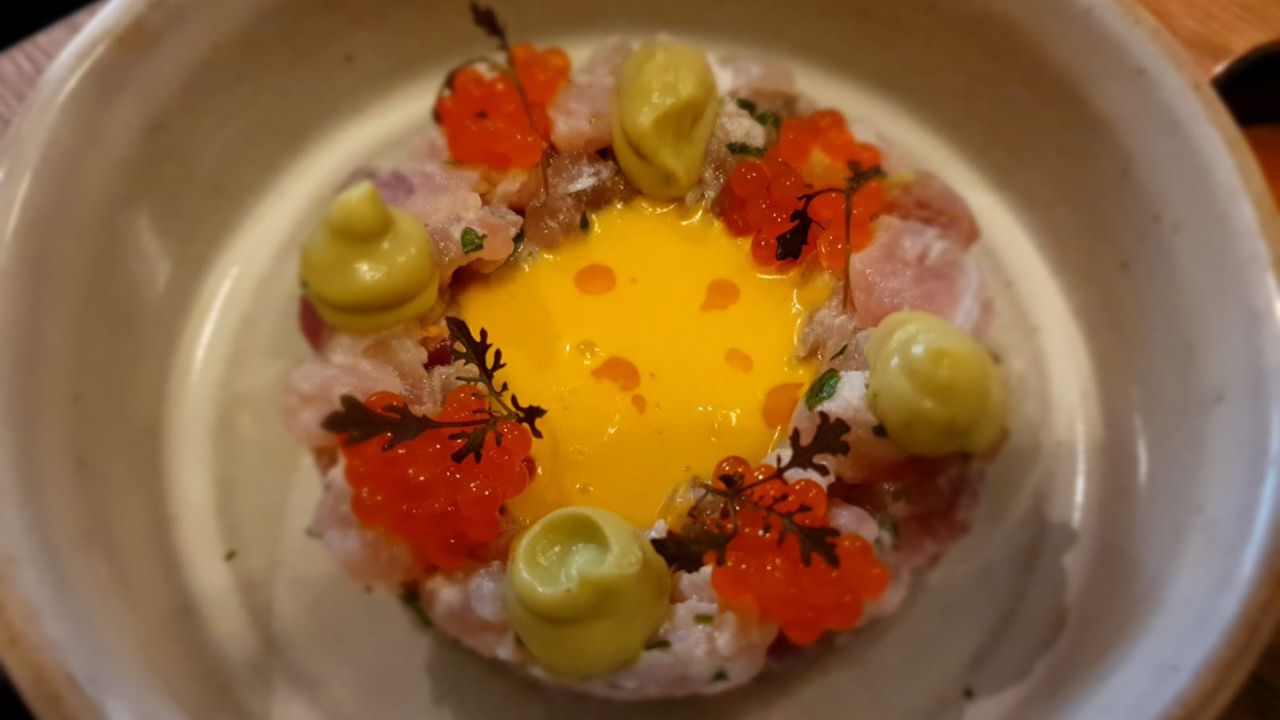 The courses came quickly – a testament to the excellent and friendly service – and we got to taste a range of their famous dishes. Luckily for me, my fellow foodie isn't great with spicy food so I got to enjoy more than my fair share of the quesadilla de pollo – a firm favourite.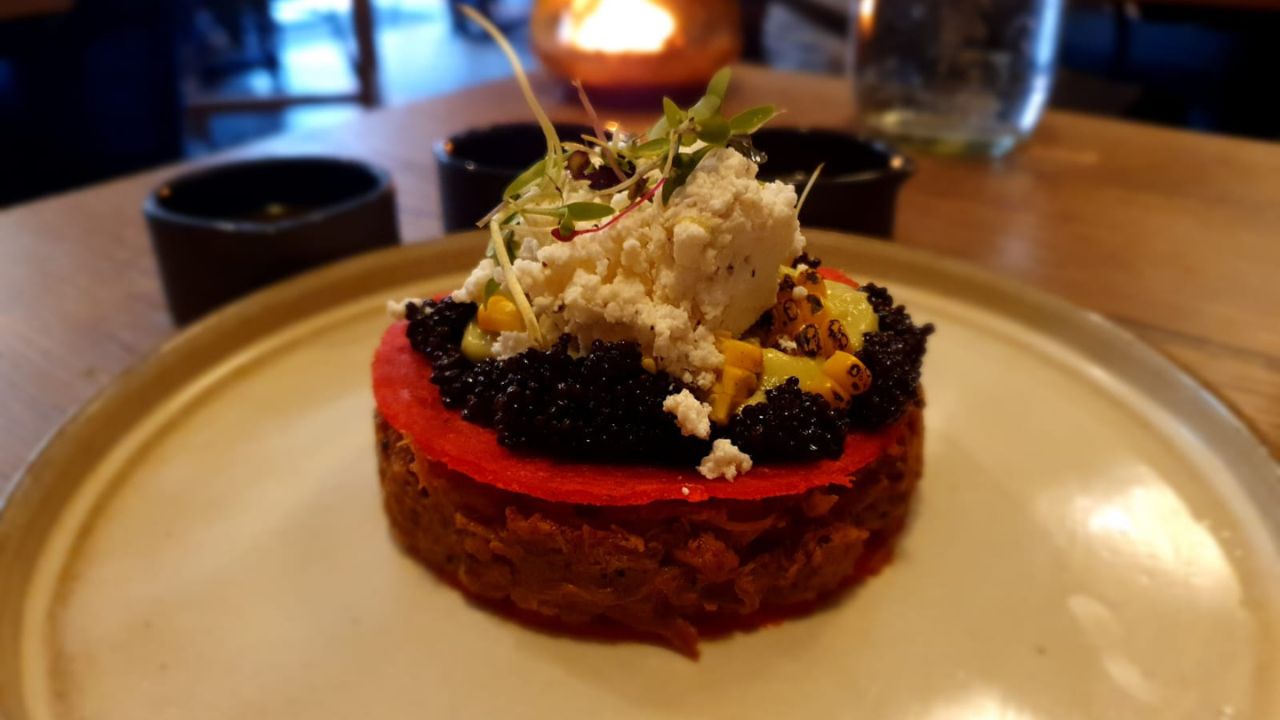 The second star of the show was the brisket – melt-in-your-mouth is an accurate description of this dish.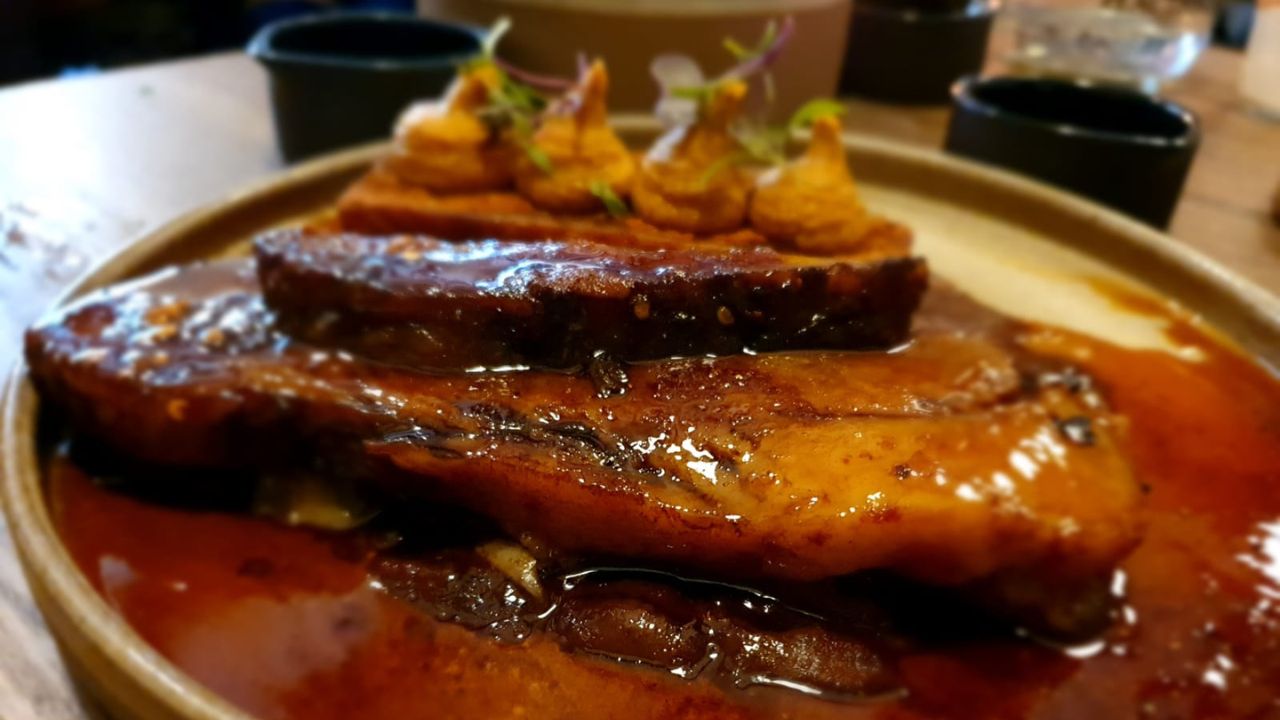 It was with great sadness that we had to admit we were full. I bravely took one for the team and ordered dessert because the churros sounded too good not to taste.
Churros – gofre de churros with burnt banana dulce and chocolate guajillo ice cream
Having the churros for dessert was a great idea. They were presented in an almost "deconstructed" manner that made it easy to scoop up the decadent chocolate ice cream. Due to the low ambient lighting in the restaurant, our photo doesn't do it any justice.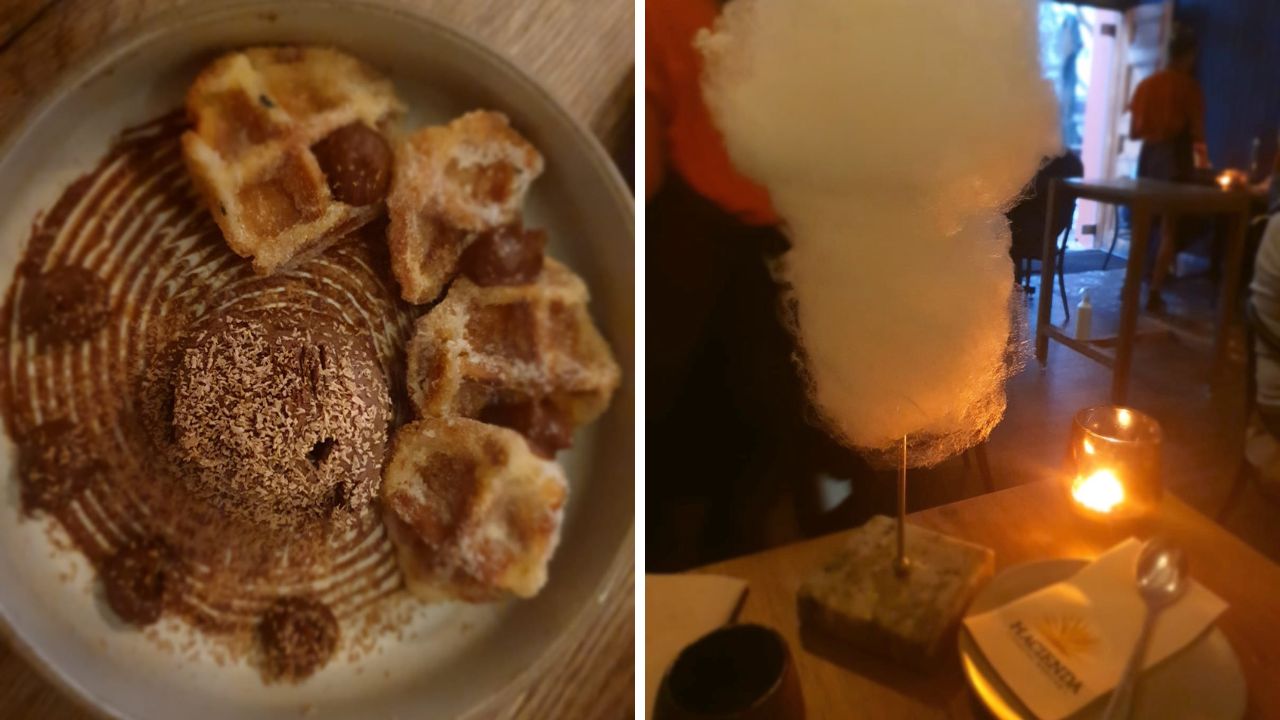 Much to our delight, to end off the meal everyone is served a big wisp of candy floss. Cue the nostalgia. When did you last have candy floss? We couldn't remember either.
When it comes to sharing plates, compromise is the name of the game. You'll have your favourites and your partner will have theirs – with any luck they won't overlap. Hacienda is a definite must-try if you're a fan of spicy food. If you're not so good with spice? Perhaps you should give Scala Pasta Bar (just down the road) a try instead.
Details
Monday to Sunday: 12:00pm to 22:30pm
92 Bree Street, Cape Town, Western Cape, 8001
Phone: +27 (0) 21 422 0128
Email: capetown@hacienda.co.za
Feature image: Supplied