Seasonal content may seem like it doesn't have a long lifespan. But with the power of search (here I go again), your seasonal content can continue to surface during certain times of the year.
If you're writing about something specific to Halloween or the Festive Season, it's bound to resurface the following year.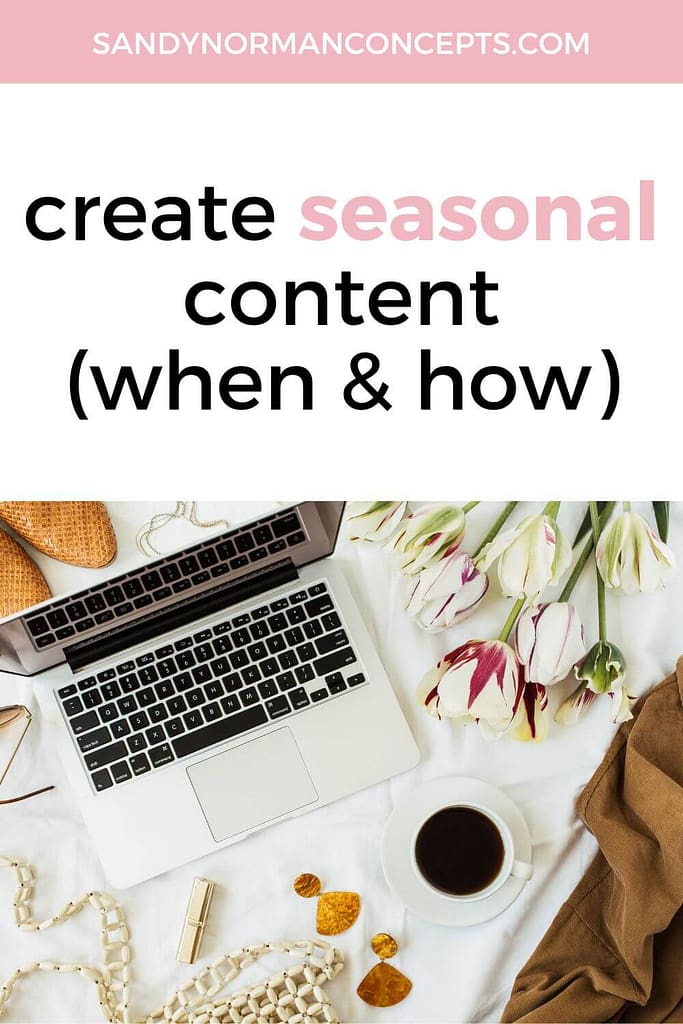 Evergreen seasonal content
The trick here is to either update your seasonal content the next year, or keep it evergreen in a certain way.
Perhaps your content is centred around social media, you could outline tactics to create seasonal content that works on a particular platform. Or if you write about photography, maybe you could offer a few tips for getting the perfect Christmas family photos. These are slightly more evergreen then, say, the best things to post about in 1997. Unless you plan to update it to the following year.
Keep the content up to date
Updating date-specific content can be useful to give an older piece of content a new lease on life. People are also often searching for "X topic in X year" as to them it feels more relevant than reading articles written a few years ago.
Keep the content you add specific years to in a content bank so that you can easily find them when the time comes to update those pieces of content.
| | | |
| --- | --- | --- |
| Title | Topic | Link |
| Title of blog post/video | What category it falls into | Link to the content |
Example of a simple content bank
Keeping content up to date this way means that you can continue to post them across social platforms by repurposing this message at particular times of the year. That way you can step off the hamster wheel for a bit and reuse content you've already created. It's especially helpful over the holiday season when you're hoping to take a little bit of a break from content creation.
Extract bite-size pieces from dated content
If you don't want to (or can't due to the specific nature of the topic) update dated pieces of content, you can still come back to them and extract bite-size pieces of content that remains relevant to the current year.
Maybe you've written a piece about Pinterest affiliate marketing in 2021. You can still find pieces of value that you can reshare to your different social platforms. All you need is about 2-3 sentences for a caption, quote, or even as a video prompt to reiterate to your audience.
Again, recording your pieces of content in a content bank means that you can easily come back and find the links to pieces of content you can use later down the line. It can be helpful to group your pieces of content per topic so that you can easily extract pieces of value that's related to the message you want to share, rather than needing to read through all of your content that you've created over time.
Creating seasonal content
Similar to finding topics for evergreen content, you can look at Pinterest or Google trends to see what topics grow in popularity during certain times of the year. Create a seasonal calendar that you can reference with important dates relevant to your niche marked down. That way you can start preparing your content in advance.
This is especially useful if you use Pinterest as for certain times of year, you'll need to pin content a few months in advance to be indexed in time for when people are planning for the upcoming seasons.
I find it helpful to break up the year into quarters so that you can plan a bit further ahead than simply month by month.
| | | |
| --- | --- | --- |
| January e.g. New Year's | February e.g. Valentine's Day | March |
| April | May | June |
| July | August | September |
| October | November | December |
Example of a year overview for seasonal dates
For the skim readers
To create seasonal content that you can continue to reuse and find value from, try the following points:
Keep your seasonal content evergreen by not referring to any trends or particular dates in your content.
Record your seasonal content in a content bank so that you can easily refer back to and update your dated content to keep it fresh for the next year or so.
Extract bite-size pieces of value from content that can't be updated – even if your content is dated, you will still have a few sentences you can repurpose and create smaller pieces of content from.
If you need a place to start creating seasonal content, take a look at Google or Pinterest trends and record important dates and trends relevant to your niche to know what to share and when.
How do you make the most of your seasonal content?