This month I chatted to Molly Ovenden, a creative writing coach, author, and visual artist. She had so many amazing insights to share and I know that you'll enjoy reading through the interview.
Share your insights in the comments below and don't forget to check out all of Molly's amazing projects coming up. Whether you're a writer or not, getting into a creative mindset can be sparked with the power of words.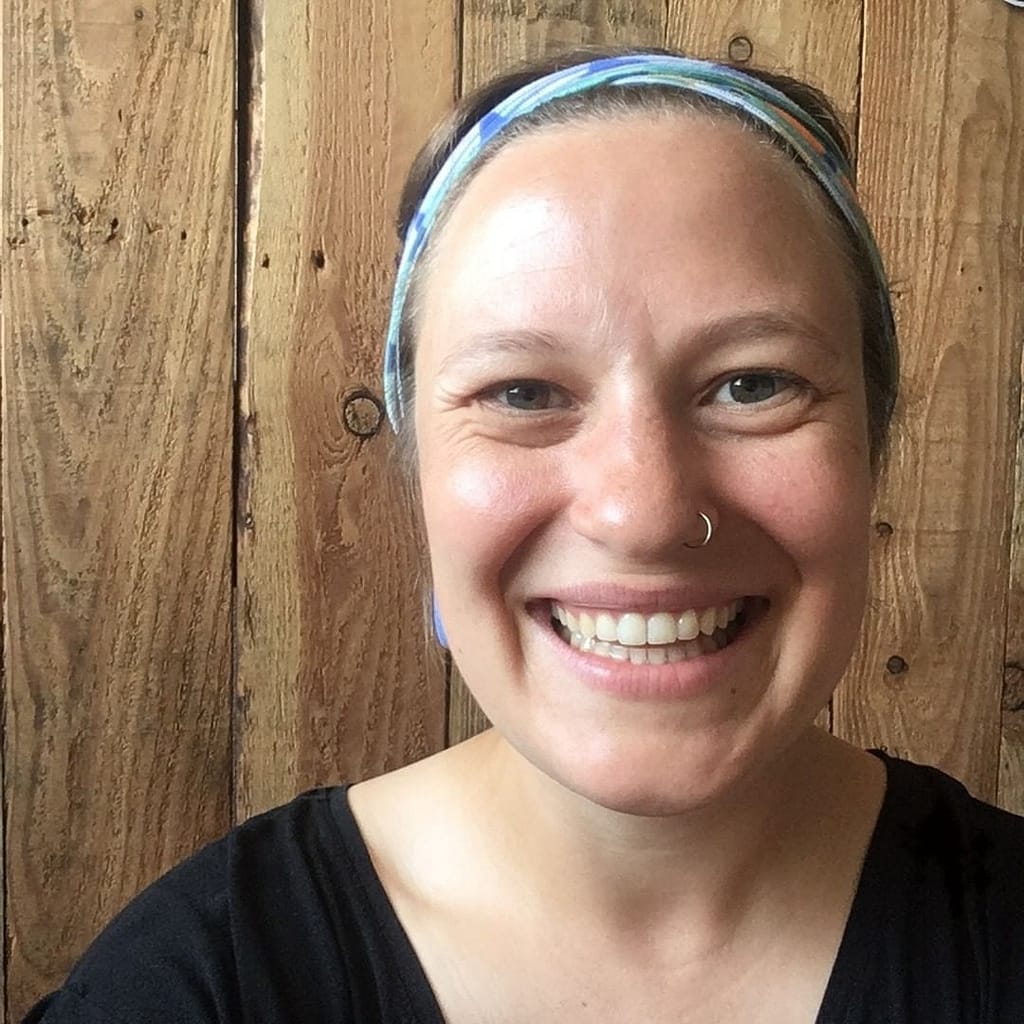 What (or who) sparked your love of writing?
Oh my! I kind of think I was born with a spark for writing. I remember writing stories since early childhood–telling them even before I could write. I have a vivid memory of sitting in the backseat of our Suburban and I wrote scribbles of fake cursive handwriting of a story on a plant tag (we must have recently been to the greenhouse). My mom has ALWAYS been (and still is) incredibly supportive of my storytelling and writing life. We'd go on walks around our neighborhood or on vacation and when we came back from the walk, we'd write stories inspired by the walk. And then, we'd read them to each other.
When I was a student, about 19 years old, I had a chance to be a "poet-in-residence" in an elementary school. I remember doing a poetry workshop one day with them and getting to tell them that they were poets since they'd written poems. The beaming smiles and spark of realization that they could be real poets (and that they were already) is such a delightful memory that helped me realize that not only writing for myself is a must, but also coming alongside to encourage other writers to get to their next level is part of who I am to the core.
How would you describe your experience of publishing your own book? What was your favourite part of the process?
Wow, what a steep learning curve. Oofda. And, I am so proud of my accomplishment. The process has been a rollercoaster of emotions and an empowering decision. My favorite part of the process has been reaching the significant milestones like the initial decision to get the book out (after a decade of joyfully writing for myself, casually sharing with others).
Once I decided that I would self-publish, I gave myself permission to be an author, to be the writer I'm made to be, and that's a beautiful gift. Another milestone of significance has been whenever I've shared about it on social media: strangers around the world are excited for me to publish my book. I feel like I'm continually learning to move beyond levels from a shy excitement that strangers believe my work is valuable and into empowered, resilient author confidence to recognize the value of my voice and the hard persevering work I've chosen to dedicate my time toward.
What made you decide to be a creative writing coach? Do you have any advice for aspiring authors?
I trained as a middle school and high school Language Arts teacher. In life and past job roles, I tend to ask a series of questions about people, from a place of curiosity — even my friends, I tend to coach them to help them get beyond what they're struggling with. It's something I do naturally and I really can't stop it and still be myself. As I realized I had been a coach for years and years, I thought I should probably overtly and confidently refer to myself with the title of coach. I ended up hiring a team of business coaches (Joshua and Lola Graham) who helped me niche down to invest my coaching career in the lives of those for whom book writing and making creative writing a habit is important. So many people used to think writing stories was amazing as kids in school, but upon reaching adulthood began believing creative writing wasn't a serious enough pursuit. Well, that's just not true. Creative writing is so valuable for so many reasons! How much time do we have?! 🙂 I help writers get their words from brain to page and into the hands of readers who will devour them. It's an absolute delight and privilege to do so.
Advice for aspiring authors:
1) Imagine yourself as an author. What do you imagine you would be thinking, feeling, and doing? You may find this phrase helpful to prompt you: "I want to be a writer who (fill in the blank)." When you consider your identity as a writer (perhaps as a writer who publishes regularly, or a writer who is an author of young adult novels, or a writer who is a poet who empowers other poets by teaching workshops, etc.), then you can consider what kinds of things you would do as that writer. The things you would do because your practices and habits as a writer. Considering your identity and how it's entwined with your habits, and vice versa, how your habits reinforce your identity, can be crucial for the success and longevity of your author career.
2) Write every day–even for merely 5 minutes. Write regularly, about anything, in an open-handed way. Free writing is a gateway to releasing both gold and garbage from your writer's heart. Once you have it all out, freely on the page, then you have something to work with. Just show up on the page fully and later on if you feel like doing something with those bits you wrote, you can hone and edit them. Otherwise consider them part of the outpouring of who you are as a writer and keep your creative pump primed. And when you write regularly, you get used to the process and you find your voice and you grow in confidence to express everything you need to speak out loud or in the written word. It's a beautiful process.
3) Find writing community. Some of the biggest life-changing bits of my coaching and writing career happened to me when I committed to a writing community, invested in hiring my business and writing coaches, and repeatedly scheduled time to spend time with writing friends who "get it." Surrounding yourself with people who are doing what you love to do and who are doing the work you dream of doing is a crucial step to be able to persevere in the writing life and authoring journey.
If you could sit down and have coffee with your favourite author, what would you discuss with them?
Alexander McCall Smith, best known author of the Ladies' No. 1 Detective Agency series, but whose writing I fell in love with in the 44 Scotland Street series. I would love to hear his thoughts about how writing has added value to his life and how he's managed to create so many different series of books with vastly different characters. I think it'd just be neat to sit with him in an Edinburgh coffee shop and imagine together who's who and what they're doing in the cafe, and then be able to write a story together.
Other than his prolific works, two things I admire him for the most are one, his frank observations about people and his sense of humor and two, how his voice comes out as a narrator or character. His characters are very real people, not just characters (sometimes he even writes friends of his into the stories and that's such fun). He seems to allow the characters to lead the way of the story instead of having a noticeable or rigid plot structure.
Often I will literally laugh out loud reading the social commentary he offers through the eyes of various characters. I just love it. And I think I'd just love to be neighbors with him in Edinburgh. Maybe I could get written into one of his stories, too!
What are you working on next? Where can people find you?
I'm always working on so many wonderful projects, each at various stages. Here are some fun things in front of me right now:
Closer: Spiritual Reflections for Writers & Thinkers is officially released on 30 June. If someone is reading this before 30 June 2022, they could sign up to be part of the Closer Insiders Club Launch Team here. Otherwise, check out the book's page here for the most current updates.
Project Perseverance is a newly released podcast I'm delighted to host. It's full of writerly inspiration, encouragement, tips and tricks from my coach heart to yours. But it's not just my voice on the podcast. I feature the stories from authors and other perseverance experts as well as celebrate my creative writing clients along their journeys, too. The podcast interviews from the perseverance experts are part of my research for a book in the early drafting stages to help anxious young adults learn to persevere so they can show up authentically as the world changers they long to be.
I facilitate a free Facebook group to create a supportive community where we can all find our voice and grow into the creative writers we've dreamed of becoming. I share tips for making creative writing a habit, how to be prolific, resilient, and audacious writers through book writing, content creation, and contagious marketing methods. You can join that here. I also run a paid membership community called BECOME the Writer which goes into much more depth than the Facebook group. Find out more here.
And finally, once Closer is released, I'll be in revision mode for the first of a series of novel-length stories about Englishman Thomas Goodun, a recently retired philosophy professor who falls in love with his new Californian lady neighbor. Thomas' story is about love and loneliness, finding purpose and meaning in life–sometimes in unlikely places.
@MollyOvendenCreativity on Facebook or Instagram and @MollyOvenden on Facebook
Website/Blog: https://mollyovenden.com/