This month I got to ask Cary Richards, co-founder of Infostack, a few questions all about his business. Take a look behind the scenes with me to learn more!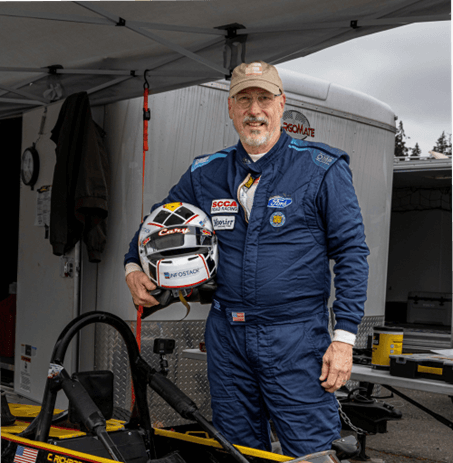 My name is Cary Richards I live in the Pacific Northwest of the USA (Seattle Wa.) with my wife Jeannie. I have successfully raised 4 children who are all out on their own and doing great.

I spent many years in the corporate sales trenches and hated every minute of it. It was always my dream to start and run my own business.

About 5 years ago preparation and perseverance met with opportunity and Infostack.io was born.

Now, along with my partner Tom Morkes I spend my days curating super valuable bundles of information in several niches and vertices and offering them at huge discounts.

On the weekends in the spring and summer I compete in vintage open wheel races up and down the west coast with the Infostack Van Dieman Formula Ford.

In late September of this year I was fortunate enough to win the year long 2022 Emerald Cup Formula Ford Championship.

Also, here's an in-car video you might find interesting: https://youtu.be/aUgtTFYxh4Y
1. What (or who) inspired Infostack and the philosophy behind it?
I had taken several courses (and spent way more money than I should have) trying to learn how to generate an income online.

One day I was going back through the "Quit in 6" program (not sure if it even exists anymore) that was produced and offered by a guy named Matt Stone. Matt now runs a very successful book cover service called 100 covers

Anyway, I remember very distinctly at one point sitting straight up in my chair and having an epiphany as I listened to the course for the third time.

"I'm not an expert at anything really, so, I'll curate other peoples top-tier information and sell it at a huge discount"

The whole thing just made so much sense. The content that we curate for the stacks (We call our bundles stacks) is really high quality and offered at an absurdly low price so…

-The customer gets an amazing deal

-The contributor gets their brand in front of literally thousands of highly targeted potential customers

-We make a percentage of the the total sales, so we make money as well

It's what we call a win/win/win deal
2. What do you believe to be the most important message behind the stacks and the value they offer?
I think the main message behind the stacks is that you should never give up on your dream. Whether it be starting or scaling a business, losing weight and getting in shape, writing a book or …?

There is always a way to get the information and motivation that you need to accomplish most anything you set your mind to.

We are proud to bring people super high quality information in multiple niches and verticals at a price that most people can't even believe is real.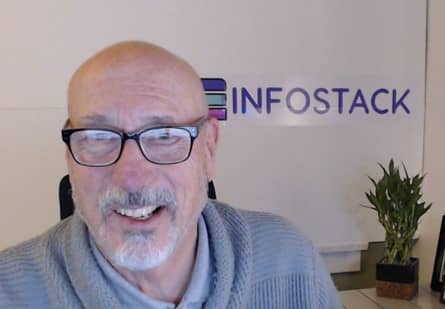 3. What do you find to be the most valuable part of having a team and co-founder to support you?
I would not be anywhere near where I am today without my partner Tom Morkes. He's half my age and WAY smarter than me.

He is one of the brightest marketing minds I've ever encountered.

He along with our outstanding team of researchers, graphic artists, assistants, customer service experts and more are the reason Infostack flourishes.

It's very much a situation of "I must hurry, because there they go and I am their leader…"

I had the idea and set the thing in motion, but my team are the ones who put it all together and I am eternally grateful for all of their hard work and dedication.
4. Do you have any advice for aspiring entrepreneurs who are looking to launch their new offer?
First, don't EVER give up. If you're anything like me you'll endure a lot of false starts and make tons of mistakes.

You'll probably spend money that you feel was wasted, You'll have multiple challenges and set backs but just learn from your mistakes and keep putting one foot in front of the other a keep going.

Second, find a mentor and or a mastermind group or both. My 20 yr "Overnight success" happened when I finally found someone who's approach and strategies resonated with my own and who was willing to partner up with me and teach me what he knew.

Third, take massive, consistent, strategically sound action! All the knowledge and good intentions in the world don't mean a thing without daily, consistent action.
5. What are you working on next and how can people find you?
Our next big launch is our Black Friday Bonanza!

We will be launching 8 (Count em, eight!) Super Stack bundles that will go live between Tuesday, Nov. 22nd and Tuesday, Nov. 29th
They include…
The Ultimate Crypto Super Stack
Writer's Craft 4.0
Financial Freedom 2.0
The Women's Confidence and Career Super Stack
The Content Creators Super Stack
The Ultimate Real Estate Investors Super Stack
The Unlimited Abundance Super Stack
The Men's Success and Lifestyle Super Stack
You can go to https://infostack.io/ and click on "View Today's Deal" to join the waiting list and be notified when these stacks go live

If you have a product and would like to see about participating in one of our stacks as a contributor or affiliate please contact me at cary@infostack.io

Or just schedule a quick chat with me here:www.infostack.io/chat

Thanks, good luck and we'll talk soon,

-Cary