This month I was lucky enough to get some amazing insight from Melanie Knights.
Melanie is an inspiring entrepreneur who is authentic, generous, and all round a badass. She shares some refreshing and much needed info about business that I know you're going to love and learn from.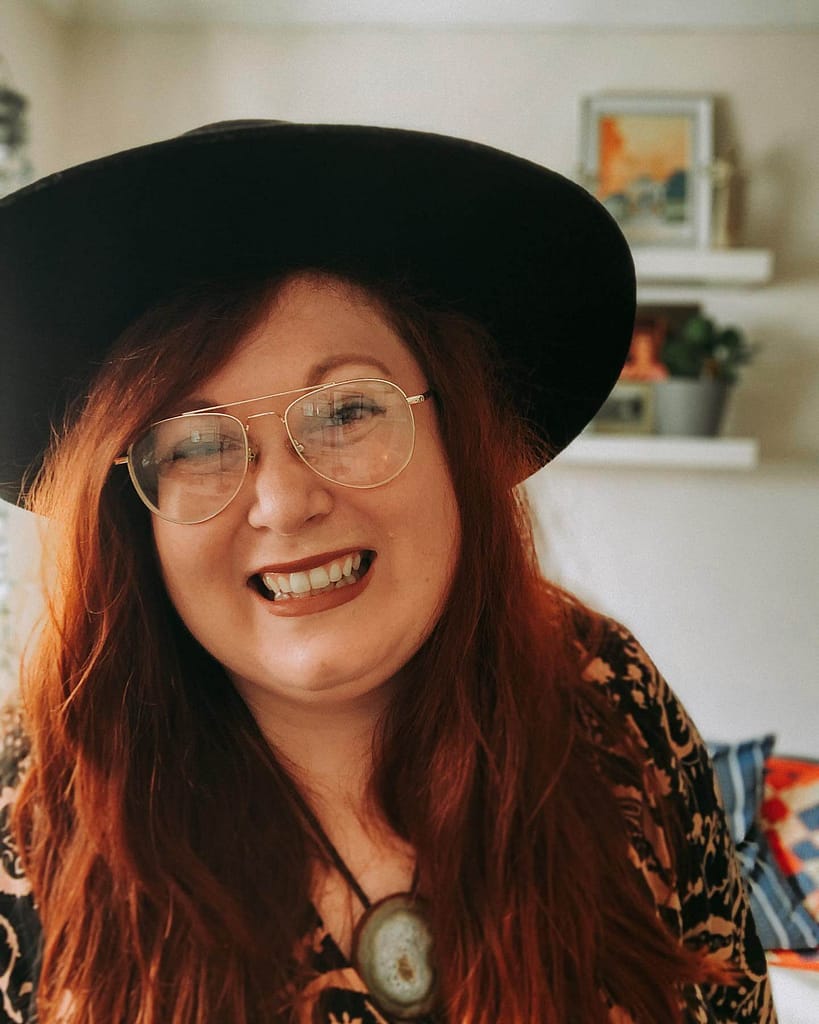 1. How would you describe your concept of a slow business to an exhausted entrepreneur?
This is a wonderful question, and such great timing as we head into Autumn because 'tis the season of hustle, "finish strong" marketing and so many entrepreneurs find themselves exhausted.
The first thing to keep in mind is that this isn't your fault, hustle culture has been glorified in online business and it's rooted in diet culture and patriarchal conditioning. Hustle culture keeps people, women in particular, playing small.

Slow business is an extension of slow living, it's reactive and gentle. This can be challenging, especially for those of us who love to strategize and plan. You can continue to plan when running a slower business, I like to think that the way we form decisions shifts in a slow business. We focus on our own needs, instead of that voice in our head telling us what we 'should do'.

My personal experience running a slow and gentle business has meant creating new products or experiences for my community based on my skills AND passion. I've lengthened deadlines on projects and launches, asked for more strategic help within my team and streamlined my content marketing so that I can optimise my own energy.
2. How did you get into journaling and how does it help inspire your business?

Well, let me start by saying that whilst journaling has been part of my entrepreneurial experience, I have not always enjoyed it, found it supportive or had a routine.

The journey has felt long, and to be honest, I only started a somewhat consistent journaling routine in 2020. My business grew rapidly, and I had so many fears and thoughts that I needed to get them out of my head. I've found that daily reflection about my business helped clear my mind and gave me the opportunity to be honest with myself in real time.

Since then I've allowed journaling to be a regular part of my spiritual admin. My relationship with journaling continues to ebb and flow, and I'm noticing seasonal trends in relation to my routines, energy and creativity.

I continue to journal about my business, because I have so many ideas and thoughts about what I see in the online space that I need a safe place to challenge them and my own thoughts. That's why I self published The Outlaw Journal in 2021, it's a journal for business owners who want to introduce a gentle business journaling practice into their routines. The journal is filled with 12 weeks of journal prompts and reflections.

Journaling helps me to plan, capture ideas and my feelings about online business. Sometimes it will be visual and I'll use some creative energy to release how I'm feeling or want to feel.
3. Where should entrepreneurs start when wanting to make a difference in their messaging?
Hmm that's a great question, I'd actually say grab a journal or notebook, and start with your values. Most of us got into business because we had a passion for something, and wanted to solve a problem with that passion.

The passion we have is usually connected to our core values, whether they are personal, professional or both! Reflecting on WHY you started a business, and being honest about what is no longer working for you, your community and your growth is going to help clear the air.

Next, I'd ask yourself what you NEED during this season from your messaging and marketing. There are so many layers to your business, but when you know what you need from them – emotionally AND strategically – you'll be better equipped to tap into your intuition as a business owner. Don't be afraid to listen to yourself.
4. What inspired you to open an online store? What is your vision for it going forward?
Self-publishing The Outlaw Journal and Planning By The Moon last year reignited my creative passion, and last summer I dove heart first into stationery, art and visual journaling.

My creative inspiration has always been very rebellious, challenging the status quo and working in ways that fight the patriarchy.

The Fat Gurl Sticker Collection, which I launched this spring, was inspired by my lived experience of life in a fat body, and ultimately, the extensive damage diet culture has done to my physical and mental health. Diet culture seeps its way into all areas of our lives, including our businesses, and once you see it, you can't unsee it.

My mission is to show various fat body shapes and sizes in positive ways. I've had to seek out fat creators, artists, influencers and fashion accounts because we're still under-represented and rarely given main character energy.

My BIG vision is to open a small brick and mortar stationery, plant and coffee store. I want to create a haven for creatives and folks who zig when others zag…
5. What are you working on next and how can people find you?
Right now I'm working on improving my art skills, creating a portfolio of work to use in coming sticker sheets, and I'll likely be introducing additional products like prints, postcards etc.

I'm also getting ready for a new season in my business, figuratively and literally, as September rolls around I'll be launching a new season of my podcast, Entrepreneurial Outlaws and we're facilitating a Patreon community for my fellow Outlaws with bonus episodes each month.

I love Autumn, it's my favourite season which means I tend to slow down in the Summer and get ready for a few pumpkin packed months!

You can find me on Instagram and TikTok, where I share my art, thoughts on business, diet culture and all the things happening in my business! My website is melanieknights.com and you'll find my shop, podcast and links to Patreon from the main menu!