Brand identity can be described as the meaning behind a brand and what it stands for, including their values and unique selling points.
Nando's is a good example of a brand that has a strong and recognisable brand identity that is consistent throughout all media – online and offline. Their branding has a distinct look and feel, which resonates with their customers and creates a sense of community.
Here we will look at what a visual and verbal language is before exploring Nando's tone of voice, symbols and brand story further. Once each of these factors has been clearly established, it becomes clear how they can be tied in with the business strategy of Nando's.
What is visual and verbal language?
Visual and verbal language can be seen as the final part of the brand identity system. A brand identity system includes the brand's vision, purpose, personality, values, mantra and tagline. These elements are crucial in the development of a visual and verbal language as they contribute to the brand's self-expression. Taking this into account, the visual and verbal language can be described as how a brand expresses itself on a visual and verbal scale.
Nando's tone of voice
A brand's tone of voice plays a crucial role in displaying their personality and values to their target audience. Nando's has a unique tone of voice that allows them to stand out from their competitors through a cheeky, youthful demeanour.
When looking at Nando's content it is clear to see that they make use of puns and clever sayings, for example "wing-wing situation" as opposed to "win-win situation" in the below video.
They factor in current events when creating content and advertisements allowing themselves to stay relevant and on top of customers' minds. This type of content usually involves a humorous slant that manages to lift the spirits of their customers and create a shared love of food.
Their advertising strategy thus furthers their brand identity as they create content that is socially and politically relatable to their consumers and communicates their tone of voice effectively.
Nando's symbols
Unique and easily recognisable symbols are a must for any brand. Nando's has a range of symbols that they incorporate into their branding that are familiar and recognisable. These symbols are drawn from the elements that make up their brand and include a heart (incorporated in their cockerel icon), a flame (representing the flame-grill), a triangle (representing family) and the chilli (which features in their logo). Nando's most recognisable icon for their brand is their cockerel named Barci.
These four icons are used in the various patterns that are created for their advertisements and content. The patterns are African, Portuguese and Nando's inspired and communicate a "simply Nando's" mood.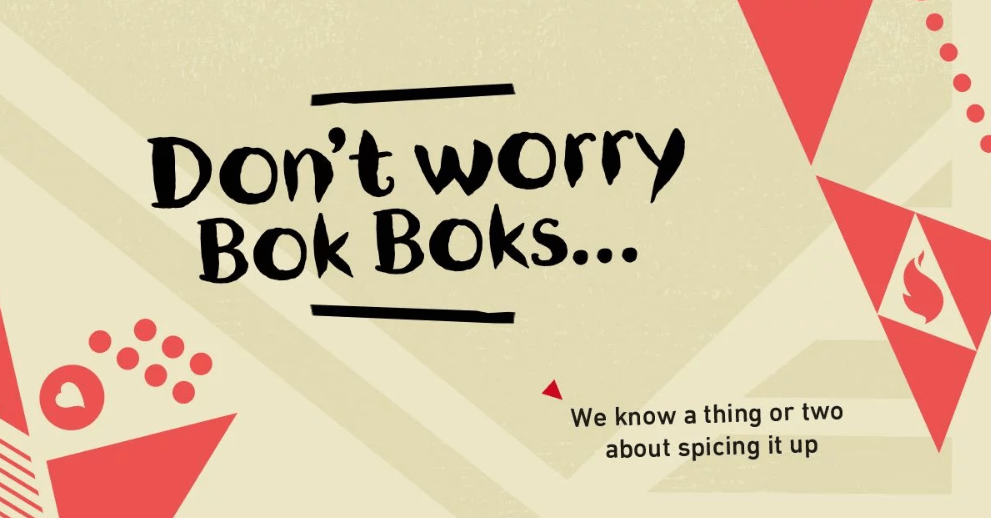 Their custom font was designed for them by a South African sign writer, further buying in to the idea of an African inspired visual language. It is interesting to note that all of their headings are tilted 87 degrees to pay homage to their origins in 1987.
Nando's brand story
An effective brand story needs to get a brand's message across in an interesting, memorable way in order to connect with stakeholders. Nando's story does just that.
They have interesting stories connected to their brand, such as the story regarding their cockerel, Barci. These stories appear in their various stores and spread the brand message across each one.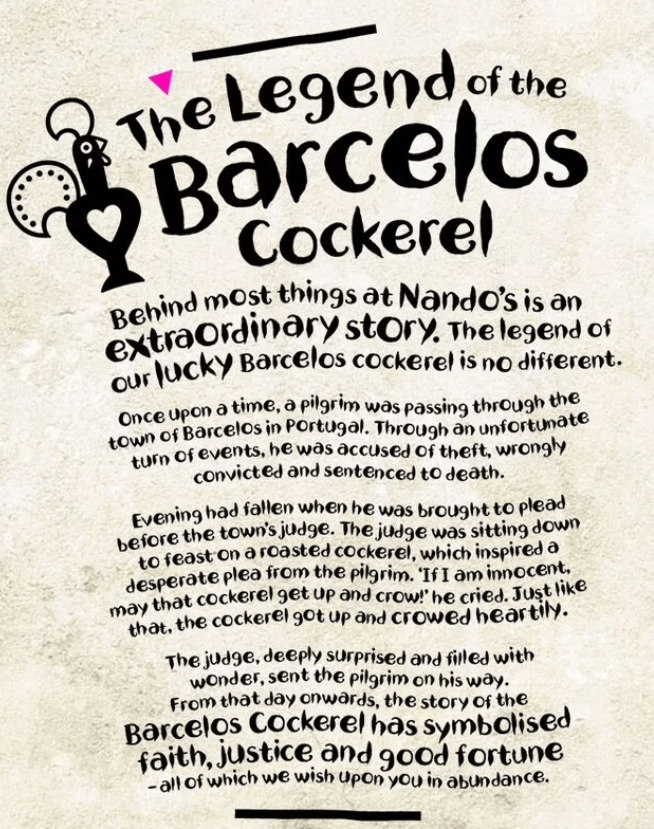 On their website, their brand story is displayed in an interesting, visual way that makes it easy to read and digest. It is concise yet informative and manages to retain their humorous tone. This humour shows through with "love at first bite" and "a spice so nice, they named it twice", which are both typical of the way Nando's communicates with their customers.
Their brand story focuses on a shared love of good food, in particular chicken PERi-PERi, which is communicated on all of their platforms. This is seen in various posts that help to display the clear sense of brand identity that Nando's has achieved through their careful and thoughtful branding process.
How does their brand identity support their strategy?
Nando's has a strong, recognisable brand identity, which makes them noticeable to customers and stakeholders. This can be seen through the various symbols that they use in their marketing material along with their strong, familiar brand colours of black and red. This established brand identity encourages brand loyalty as customers are more likely to engage with a brand that they have built a relationship with.
This in turn supports their business strategy as with more exposure gained from their effective brand identity, they are able to increase sales. Without an effective brand identity, Nando's would not be able to meet any of its business strategies as they would not be as distinguishable from competitors.
Final thoughts
Looking at the above elements, it is clear to see that Nando's has a well-established tone of voice, consistent use of symbols and interesting brand story. These make up their strong and effective verbal and visual identity – without which they would not have as strong a relationship with their customers as they do today.
Feature image: Pixabay
*Blog post created for the UCT GetSmarter Brand Management Short Course first published 19 March 2019