Do you have the right tools in place to help you create content?
When you're just starting out, creating content can seem overwhelming. And you may not be able to afford to outsource it (just yet) when you're still building your business.
But there are some tools that you can use (for free) that can help you save time creating content.
Here are the 7 tools that you can use to create content easily on your own – in the order that you need them.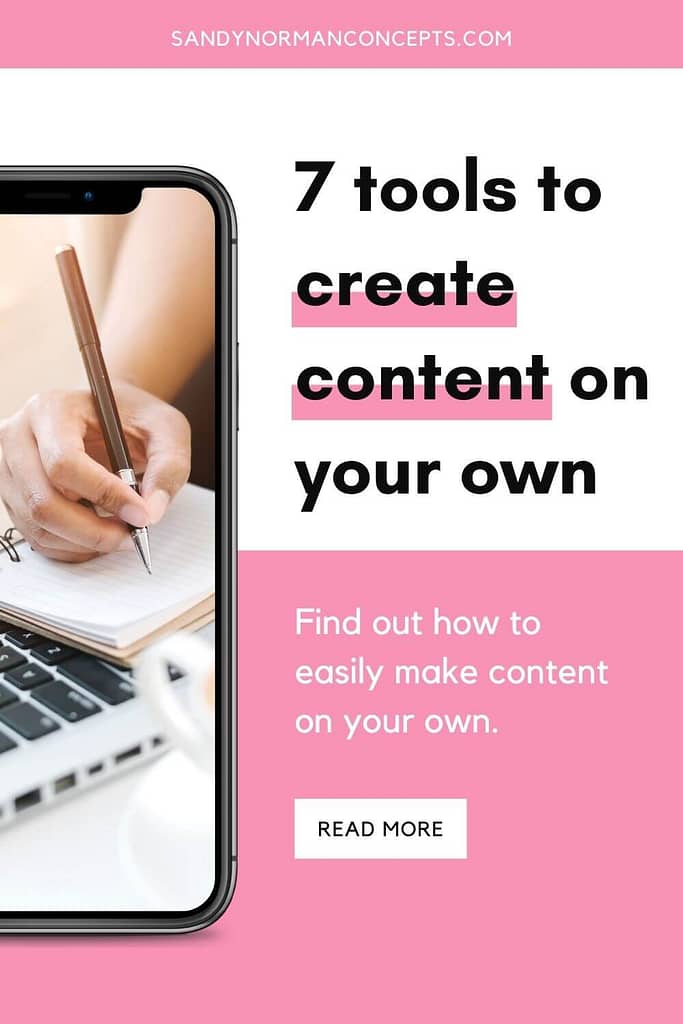 1. Ideation: Google
This one may seem weird. But hear me out, if you're stuck for content ideas you can Google your niche and start building up a bank of topics using the suggested questions or related searches.
I created a year's worth of blog post ideas using this trick. The same could be said about Pinterest and YouTube search.
Keeping an eye on popular searches helps you to see what answers people are looking for and how you can help your audience with their own questions. Creating content is, after all, for your audience and not for yourself.
2. Organising Ideas: Trello
When it comes to staying on top of your online presence, it helps to have a place to drop and organise ideas. That place is Trello.
You could have one central board that has all your notes in, or you could create a few boards for each of the pillars in your business.
A few ideas of boards you could create to start organising your content could be:
Content ideas: blog and social posts, videos, newsletters, the works!
Swipe file: pop in inspiration that you see from other creators – these are great to reference for inspiration (note: inspiration, not plagiarism)
Website: website admin is never-ending, having a board to keep track of everything is helpful
Vision board: this may sound cheesy but it's a good idea to keep a list of all the things you would like to achieve – any project ideas, business achievements, put them down!
Content calendar: you can use a power-up to create your own content calendar within Trello to keep everything organised in one place
3. Writing Captions: Google Docs
Google docs is a great option for writing captions, blog posts or video scripts.
The big benefit is that you can access it on multiple devices giving you the chance to write or update your content wherever you are. You never know when (or where) inspiration may strike!
If you want to keep your ideas all in one place, you can even write your captions inside the relevant Trello cards that you have in your content calendar boards.
Bonus tip: copy your captions or blog posts into Hemingway to see how easy to understand your content is. Your content may make sense to you but your audience, who may be beginners, may not understand your jargon or technical speak.
4. Designing Graphics: Canva
What would this list be without having Canva down?
Canva really is a lifesaver when it comes to creating graphics for social media, blog posts, newsletters, video thumbnails – you name it.
Create your own templates or use the pre-made options that are there. Keep in mind that the free templates are used by loads of other content creators – tweak them a bit to embody your unique style.
Whether that's different colours, adding (or removing) elements or changing fonts, there are many ways to tweak templates to make them your own.
5. Email Templates: Mailchimp
Email service providers are a controversial topic. Everyone has their favourite that they swear by. I started with Mailchimp and (mainly out of laziness) I'm going to be sticking around it for a while.
You can have a free plan with them that offers you the basics to get started. I've heard good things about other providers such as ConvertKit but the common theme is that most free plans don't have automations. Which is rude.
But getting started building your email list doesn't need to be complicated – there are templates available in the free plan that you can customise to be your own.
Elements you could use to customise include:
A branded header image
Your signature or sign off
Standard fonts and colours
Here's an example of my banner – it doesn't need to be fancy. Simply be clear and have fun with it.
Once you have a template set up, it's easy to create newsletters each time as the groundwork is all there!
6. Social Media Scheduling: Later
There are loads of options for social media scheduling. Later is one of them that gives you one social set that covers Instagram, Facebook, Pinterest, and Twitter.
Manually posting is great in terms of engaging but sometimes it's easier to set it and forget it. Taking a little time out of your week to schedule content saves you time during the week to work on another element of your brand.
Take note, scheduling far in advance can lead to insensitive postings depending on what's happening in the world so be sure to remain mindful of your posting.
Once you've scheduled your posts – don't forget that you can repurpose them for even more content.
7. Making Data-Driven Decisions: In Platform Insights
You've made and posted your content, but what next?
Keep an eye on your analytics and see what's working and what isn't.
Facebook and Instagram have quite comprehensive feedback on your posts and your audience. You can see what content is resonating with which audience and what content is falling flat.
From there you can make better decisions about what content to create to engage with your audience and build relationships.
Don't fall for vanity metrics! Likes and follows aren't going to move your business forward. Rather focus on engagement metrics and sales or other conversions.
Final thoughts
To wrap up, here are the tools that you can use (for free) to create content:
Ideation: Google
Organising Ideas: Trello
Writing Captions: Google Docs
Designing Graphics: Canva
Email Templates: Mailchimp
Social Media Scheduling: Later
Making Data-Driven Decisions: In Platform Insights
Once you've made your data-driven decisions, you can repeat the process and head right back to ideation with the help of these tools.
Do you have any tools to add to this list?