Repurposing content saves time by using existing content and turning it into something new that resonates with your audience.
This is an excellent way to share your message in an alternative way to appeal to different members of your audience.
Minimise the stress of content creation and save energy by reshaping existing content to keep up with the demand of creating consistent, quality content.
With all the noise online, not everyone in your audience will see your content the first time. This means that repurposing is a clever way to get the most out of your content.
Here are 6 ways to repurpose your blog content into snackable pieces of content that you can use on all of your other platforms.
1. Blog headings for list posts
Blog posts are usually made up of H2 tags and if these are structured in a coherent way, you can create list posts for platforms like Pinterest and Instagram.
This makes great saveable and shareable content that your audience can easily enjoy and engage with.
If your blog post covers 5 steps to achieve a particular result, you could list each step in a graphic with a clear heading that catches the attention of your audience. For example: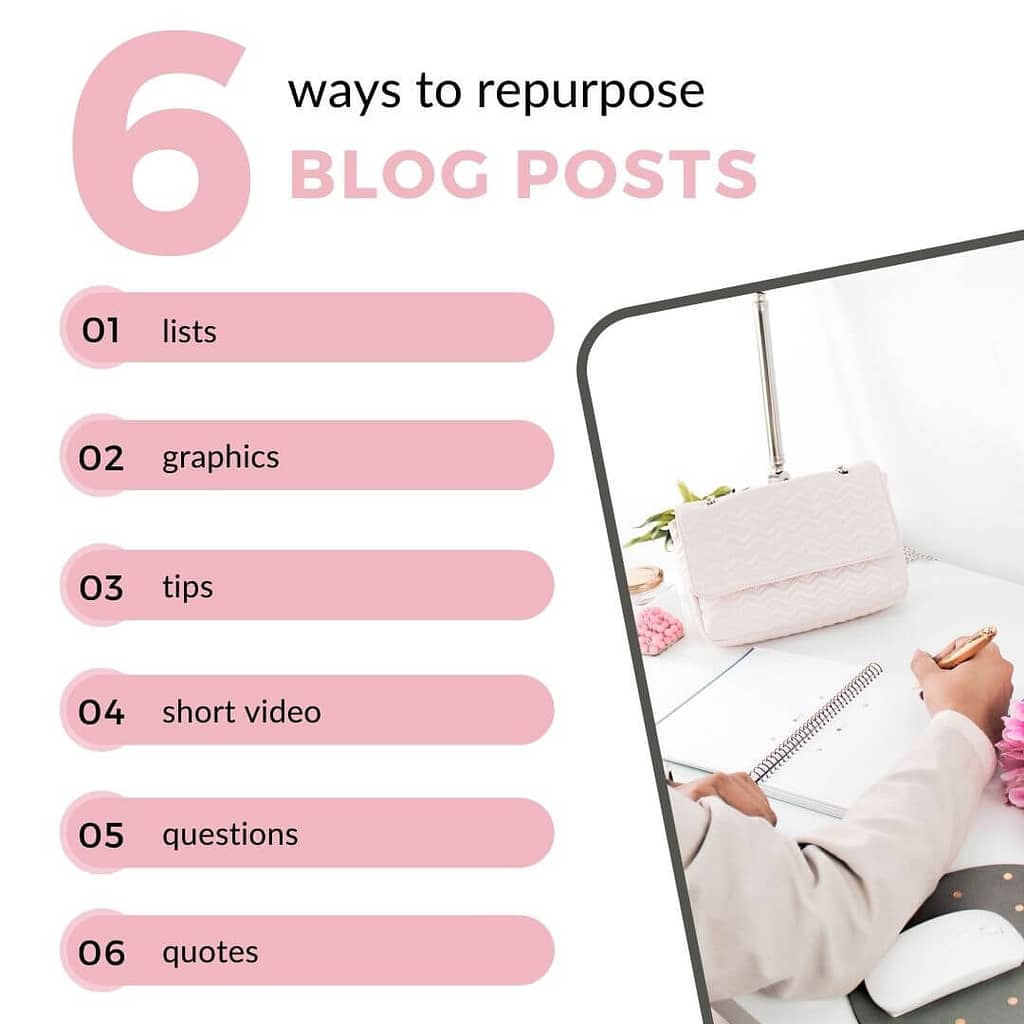 2. Blog graphics for social media posts
Choosing or creating the right graphics for a blog post can be time consuming. Instead of creating new graphics for social, use your blog post graphics and drip that content over a month or so to get the most out of that content.
Whether you take your own photos for your blog or create them in Canva, your audience will love something personal created by you.
Stock photos are good too! Choosing the right stock photos can be just as time consuming as creating from scratch.
Make sure to save all of your images in one place to make it easy to find the content you need, when you need it.
3. Extract tips from each paragraph for social media
Your blog post most likely has tons of value throughout the whole piece. Each tiny tip that you share could be reformatted into a social media post.
If you have 10 points in your blog post, that's 10 different posts that you could create! If your blog post is your main focus, you can direct them to read the full post on your website to drive traffic each time you post a tip.
Even better if your content is evergreen as you can share each post slowly over time for a mix of new and repurposed content.
These tips are especially great for Instagram carousels as you can break up a more complicated point into an easily consumable carousel that educates. The best part? This piece of content is saveable meaning that your audience will start to look at you as the authority.
4. Create short video highlighting top points
Video, whether you love it or hate, is popular.
You can take 1 or 2 points from your blog post and create a short video for Instagram or TikTok that engages your audience.
If you don't want to show your face, no problem! You could create a short video that focuses on your hands doing a particular task with text highlighting your point, or even create a short video in Canva that uses either their stock video or simply animated text and images exported as an MP4.
There are always ways to create video whatever your comfort level. Get creative! Think about some ways that you could transform your blog post or parts of your blog post into short video.
5. Turn your blog post into questions
Engaging with your audience is as important as adding consistent value.
Read over your blog post again. What questions could you pose to your audience based on the content?
These questions will get them thinking about and engaging with your content. They could be used in Instagram stories or Facebook and Twitter polls.
Really think about where your audience engages with you and how you can get them to respond to what you ask them.
This is a great way to get feedback from your audience! Their responses can give you ideas about what content is resonating with them and what you should create more of.
6. Create quotes based on your blog content
People love quotes! Share some of your top pieces of wisdom as quote graphics across Pinterest or Instagram that your audience will love.
Quotes are almost cheating as they are sharable and relatable. If you have said something that's particularly valuable, be sure to create a quote graphic and share that with your audience.
Not only is it a lighthearted piece of content, it can also drive interest to your blog post and encourage people to learn more from you.
Final thoughts
The best part about repurposing content is getting creative with how you can share one message multiple times in different formats. Strike that balance between omnipresent but not repetitive.
You can repurpose your blog posts by turning them into lists, reusing graphics, creating tips, making short video, posting questions, and sharing quotes.
What other ways could you repurpose your blog posts? Let me know in the comments!